GoPlanner PICK IT UP
for medical records pickup within health care facilities
Use of a smart locker for delivery and collection of documents containing sensitive data
There are many situations in which a patient must come to a hospital facility to pick up a medical report or medical record.
The pick-up operation is not always quick, and it also contributes to an increased presence of people in the hospital facility.
Thanks to GoPlanner PICK IT UP, it is possible to simplify the delivery of any personal document and also to prevent people from staying longer than necessary in health care facilities while still expanding the hours of availability for pickup without committing facility staff.
Patients will be notified by text message that the document has been deposited in the locker, receive a dedicated password and can pick up the documents independently.
This solution applies to facilities in
public and private healthcare, 
analytical laboratories, 
outpatient clinics, 
for patients who prefer paper delivery of reports instead of online delivery.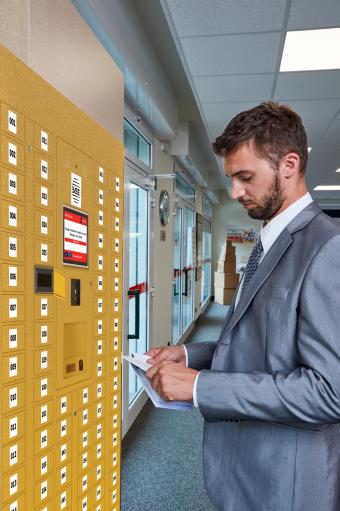 The operation is simple and is divided into 2 phases: deposit and withdrawal.
Deposit: The delivery person, after identifying himself with his credentials, activates the deposit function, enters the patient's tax code and mobile phone number, places the documents in the selected box and closes the door. When the box is closed, the locker sends an SMS to the customer advising him of the availability of the documents inserted and reporting the collection PIN. The employee can possibly make other deposits for other customers in the current session.
Withdrawal: The patient receives a "documentation available" message via SMS or email and the PIN for collection, goes to the locker, has the RFID chip or barcode of the health card read and enters the PIN received to unlock the access to the box containing the documentation to be collected.
The corresponding box opens and the customer can collect the envelope. When the door closes, the box is available again for new deliveries.